Psychopaths, father figures, idiots, and predators: the emotional cost of sugar babying for Canadian university students
BY RACHEL DEGASPERIS
ART BY PRAPTI GOSAIN
———————————————————–
Trigger warning: this article describes sexual assault.
Note: All of the people in this article are named using pseudonyms due to safety concerns, with the exception of Cecilia Benoit.
In a small café in downtown Toronto sits a bright-eyed, petite young woman named Veronica. Sitting across from her is Arthur, a man of about 50, who is asking her questions about her university studies, her plans after graduation, and what she is looking for out of their arrangement. This is Veronica's first date as a sugar baby. It is, essentially, an unpaid job interview. But Veronica is distracted anyway—her phone is blowing up with text messages from a different man that she started talking to on the sugar dating site, Seeking Arrangement. He keeps asking her to send the address of her location so that he can come and pick her up. Immediately, Veronica's interest is piqued. She sneaks text messages to him in between sips of coffee and stiff talking points with Arthur. To be safe, she also asks him to send pictures of his licence plate before she tells him where to meet her. He sends them over immediately.
Not long after, Veronica is waiting on the street corner for Kaddafi. It is approximately 8 p.m., and the sun has already set over the Toronto skyline. It is also the dead of winter. Veronica is shivering, dressed in a borrowed mini skirt (without tights) and a long sheepskin coat. It takes only about 10 minutes before Kaddafi pulls up—he had been driving around the city during her date with Arthur, waiting for her to respond to his messages. Acting as if she is about to enter an Uber, Veronica checks the pictures of Kaddafi's licence plate on her phone and then quickly looks at the licence plate on the black Jaguar in front of her, before opening the door and sliding into the passenger seat.
"Veronica soon learns that Kaddafi likes to play mind games with the women he fucks — in both subtle and extreme ways."
Inside, she's met with dim lighting and the roar of a German heavy metal band blasting through the speakers. Kaddafi is 32 years old, one of the youngest sugar daddies Veronica will encounter during her time as a sugar baby. He is also her favourite. He is a tall, handsome, Middle Eastern man with fluffy hair. In time, she'll come to realize that being with Kaddafi is like playing a game of chess. In a deep, dark voice, she hears "Hellooo" echo inside the car.
Veronica soon learns that Kaddafi likes to play mind games with the women he fucks—in both subtle and extreme ways. He does things like switch the music to Taylor Swift unexpectedly as they drive toward his apartment, or casually mention that he's a psychopath. "It was like he was trying to sell to me that he was bad," she says. Kaddafi speaks in a stream of consciousness. During their time together, he tells Veronica that he can't relate to other people, that he thinks they're useless. He says he doesn't feel empathy or love, and that the only people he cares about are members of his family. He doesn't love them either, he just doesn't want to ruin their lives. Otherwise, if they died in a freak car accident, for example, he would go on a killing spree or hunt down pedophiles and start "putting them down like dogs."
"I kind of believe him," Veronica says. "Because somebody's out there killing. And if it's not Kaddafi, I don't know who it would be."
This is an old story, one that Veronica first told me in 2018. At the time, I was also entranced by Kaddafi. I projected a lot of my own naive ideas regarding sex and power onto Veronica's personal experiences. Sometimes I was worried for her safety, but I was mainly mesmerized by the situations she would encounter. Once Veronica stopped sugar babying in 2019, I subconsciously tucked her stories of Kaddafi away in a box and placed it under the proverbial bed, not planning to open it again. Sugar babying felt like old news. After all, young women have been doing it since the dawn of internet sugar dating sites like Seeking Arrangement, which began in 2006. Sites like these made sugar dating more accessible to young women who discovered the financial benefit of dating older, wealthier men. They'd send a text message, meet up, and do it at their own risk. Why keep talking about it? The answer is simple: with every passing year, more and more women are doing it.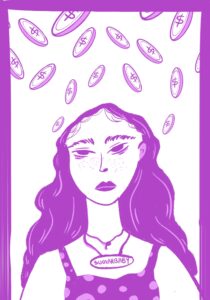 According to CTV News Calgary, Seeking Arrangement said its membership spiked during the pandemic, with a 21 per cent increase beginning in March 2020. Since then, the site has gone through a major global rebrand and goes by "Seeking.com." The company now distances itself from sugar dating, preferring instead to use terms like "dating up." Many of the people engaging in sugar babying are post-secondary students who need the money. Tuition costs are high, prices are inflating, the pandemic exacerbated economic insecurities, and rent across Canada is increasingly unaffordable. Statistics Canada data show that the average university student graduates with approximately $24,000 worth of student debt. Until the rebrand last winter, Seeking Arrangement nicknamed the sensation "Sugar Baby University," and advertised directly to university students. It seemed to work: student membership on the site increased by three per cent between 2019 and 2020. For students who don't have parents who pay their costs, sugar babying can be a relatively quick and easy way to pay the bills.
Then again, it would be a mistake to pigeonhole sugar babies. Their reasons for doing it, and the terms and conditions of their arrangements, vary depending on the person. Some, like Veronica, do it not because of financial need, but for the experience and the extra cash. Some engage in sexual transactions, and others strictly go on dates. Some are paid-per-meet (which may also be classified as escorting), and others get monthly allowances, or both. And, regardless of the reason, some sugar babies end up in mutually beneficial, sometimes pleasant, arrangements with sugar daddies. But the dynamics of the sugar relationship do not form in a vacuum. They exist within a patriarchal social structure, where the sugar daddies involved hold financial and often physical power over the sugar babies. Not to mention, current laws in Canada provide little protection to sex workers, who may feel forced to work alone and in private spaces. Although sugar babies can find agency within this sexist system of power, they're ultimately on their own to defend themselves if the situation takes a turn for the worse.
Typically, the sugar baby relationship differs from other kinds of sex work for a couple of reasons. One: many sugar babies choose to only go on non-sexual dates with their daddies and do not define themselves as sex workers. Two: the sugar baby, as a concept, is often associated with a type of privilege that is absent from other forms of sex work. Cecilia Benoit, a sociology professor at the University of Victoria who specializes in sex work research, says that the reason women enter sex work is almost always to make money. Although she has not collected data on the subject, she believes that the perception of sugar babying as a form of women empowerment likely stems from a place of pre-existing social privilege. Because sugar babies are stereotypically considered to be young, educated, and attractive, Benoit says this makes the experience appear different from other forms of sex work. But regardless of how sugar babying is perceived by the general public, as with other forms of sex work, the women who do choose to get involved may encounter dangerous situations.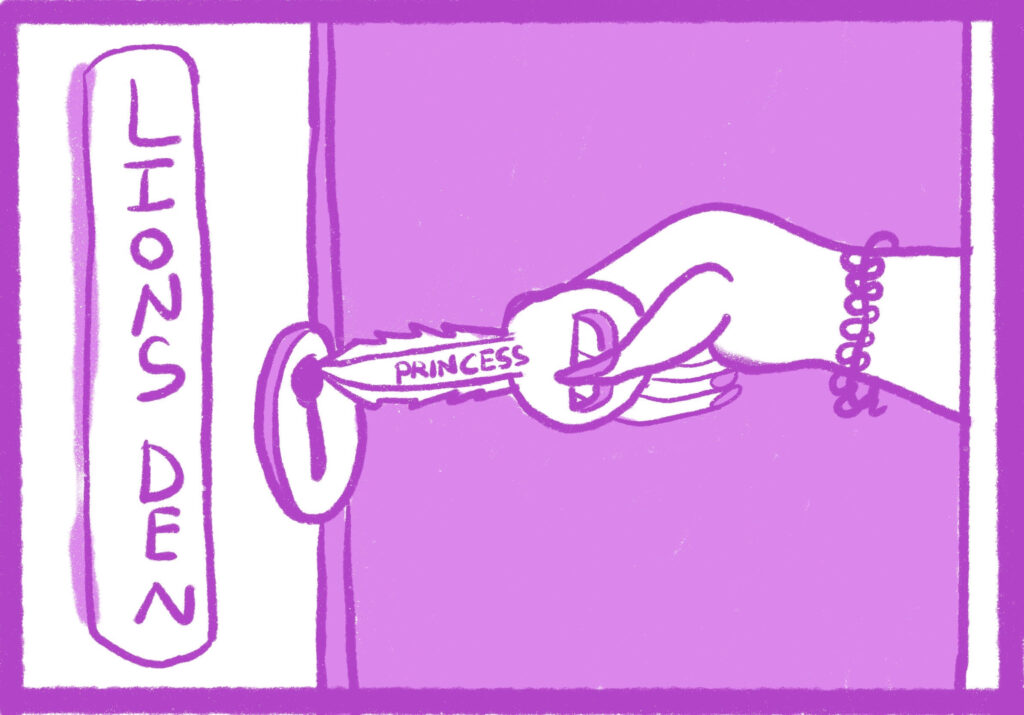 Veronica Enters the Lion's Den
After a 20-minute drive to his apartment in the East End, Veronica arrives at an entirely concrete box-like condo. Kaddafi's apartment looks both expensive and barren. It has a gorgeous view of the Toronto skyline, with minimal, nondescript furniture, and a noticeable absence of photos or decor. His fridge, Veronica will come to learn, contains a bottle of apple cider vinegar, a jar of Manuka honey, and nothing else. She is standing awkwardly in the middle of Kaddafi's apartment when he suddenly insists on seeing all of her identification, accusing her of being underage. Veronica, who is purposefully using a fake name, tells him, "No, I'm not doing that," and he replies something like, "Yes you are, go get it." He adds that he won't be paying her otherwise.
Veronica doesn't want to give Kaddafi her I.D., but she feels herself slipping into the submissive role he expects of her, and she reluctantly complies. But, also, she's already wasted an hour of her time, she wants her money, and curiosity gets the better of her. So she shows him. He tells her that he's memorized her address. Then, he asks for the first and last name of both of her parents. Veronica knows that Kaddafi is doing this to make her feel trapped, but she doesn't feel trapped or scared, just a bit hesitant. "So what?" she says sarcastically when recollecting this for me, "he's going to look my dad's name up in the phonebook and show up at their house?" She laughs dismissively. "No." After he sees Veronica's identification, Kaddafi tells her to go to the bedroom and undress.
Veronica studied sex and gender studies, so she knows that communication for the purpose of selling sex in certain public spaces is criminalized in Canada. It is, for example, illegal under federal Bill C-36 to discuss paid sexual transactions anywhere near a school, park, or daycare centre. The purchasers of sex are always criminalized under Bill C-36, but discussing or advertising the selling of sex in public also puts Veronica at risk of being charged or imprisoned if she happens to be in the wrong place at the wrong time. As a result, Veronica prefers to be in private with sugar daddies to discuss payment—even with the risks involved.
There is also no way to ensure that Kaddafi will actually compensate her for providing sexual services, nor any way to hold him accountable if he refuses. When Kaddafi dismisses her pleas to wear a condom, or nearly makes her suffocate under his sheets while she sucks his dick for what feels like an hour, Veronica knows she has little choice but to keep going. The option to stop is technically there, and sometimes she tries to come up for air—until Kaddafi inevitably pushes her head back down, calls her a bitch, and threatens to withhold payment. At the time, Kaddafi never scared Veronica; she felt that he was too controlled to get physically angry. But it was not uncommon for Kaddafi to weaponize the financial element of their arrangement to further subjugate her. "I only fucked you four times, so that means $400, not $500," he would say to her.
"With these situations you rarely, if ever, concretely sit down and say, 'You can touch me here, here, and here,'" Veronica says. "When they did something that I didn't want to do, or insisted I do something I didn't want to do, I just felt like I didn't have anything to fall back on." Benoit echoes this sentiment, explaining that the stigma and illegality surrounding sex work can make sugar babies like Veronica less likely to seek help or services when in need. There are organizations that provide resources and support for sex workers. But even then, the help offered is inherently limited, because Bill C-36 makes it illegal for a third party to advertise the sexual services of another person. This means that for sex workers who choose to work in groups, or for outside enterprises who advertise another sex worker's services, they could be subject to as much as five years in jail. This forces many sex workers to operate independently, isolating themselves from networks that provide protection, client accountability, and solidarity.
Looking back, Veronica understands why some sugar daddies try to take advantage of younger women. "There's nothing stopping them, and they were paying me," she says. "They're trying to get the most out of me for the least amount of money." For this reason, Veronica believes that it is critical to the health and safety of sex workers that Canada completely decriminalizes the practice. If we did, she says sex workers would be able to comfortably and openly discuss the terms and conditions of a sexual transaction safely in any public place, and more laws and services could be put in place to hold clients accountable.
The second time she sees Kaddafi, Veronica is wearing a different plaid mini skirt. While gazing out of his window in a moment of quiet reflection, she hears him say from behind her shoulder, "Do you wear that schoolgirl skirt because you think the old men will love it?" Veronica cannot remember what she says next. She often pays more attention to what he says, while her mind is busy calculating a response.
Paul Gives Sarah Everything But the Kitchen Sink
Sarah, who recently graduated from the University of Toronto, started sugar babying in 2018—the year that many of her friends would try it out as well. And if Kaddafi is a sadist, Sarah's current sugar daddy, Paul, is the opposite. "He's like a goofy dad," she says. Sarah has been a sugar baby sporadically for over three years, but she met Paul, who is about 55 years old, on Seeking Arrangement a year and a half ago. When Sarah tells Paul that she's looking for a new apartment, he gives her $3,200 for the rental deposit. He also drops off her rent every month in an envelope. One day, he texts Sarah to say that he is stopping by her apartment with a present for her. Sarah knows that Paul is a generous man, so she immediately gets excited. But, like most fathers buying presents for their daughters, "they're not good gifts," she says. He walks in carrying a big box. Sarah begins unravelling the wrapping paper to find an $800 knife set for her kitchen. "I pretended to be a lot more grateful than I was," she says. Paul would go on to gift her more homeware over the course of several months, such as an espresso machine, towels, and various bath robes.
"He then gets on his hands and knees and, while Sarah stands nearly naked in front of him, she hears him do a muffled Borat impression as he fixes her toilet."
Sarah and Paul have sex rarely—maybe once a year. This means their financial agreement is not conditional on whether they sleep together. And, because they hardly see each other, most of their communication happens over text messages. The relationship, she says, is mainly based on companionship. So when Sarah buys herself new lingerie and wears it for Paul, he takes one look at her and says that she looks "very beautiful." He proceeds to tell her that her toilet is broken. He then gets on his hands and knees and, while Sarah stands nearly naked in front of him, she hears him do a muffled Borat impression as he fixes her toilet. "It's gross to say this because sex is infrequently involved, but he almost treats me like a daughter or a cousin," she says. For example, Paul visits Sarah and provides for her financially. He asks questions about her emotional state, her studies, and how her friends are doing. He does this "not in an intrusive way," she says, "but in a way that seems like he actually does care."
Before Sarah met Paul, her experiences with sugar daddies were sometimes less than desirable. Sarah's nickname for her first sugar daddy, a 50-year-old entrepreneur with noticeable facial injections and a bad habit of only talking about himself, is "Big Lips." On the third date, Big Lips tries to initiate sex while they are alone, standing awkwardly in a hotel room in downtown Toronto. A wave of fear washes over her body. At this point in time, she is younger and inexperienced with sugar babying. She starts backing away from him, suddenly realizing that she is mentally unprepared to exchange sex for money. But once she vocalizes her discomfort, Big Lips reassures her that he would never coerce or force her to have sex. Immediately, he calls an Uber to drive her home. Sarah feels lucky, saying, "I probably should have been more nervous than I was."
"Although I understand that what I'm doing is serious," Sarah continues, "I would say it's good for me in a lot of ways." Without sugar babying, Sarah would not have been able to pay rent or afford tuition. Then again, after watching friends cycle through enough unpleasant sugar daddies, she believes that whether or not you have a good experience often comes down to luck. Though she cannot control the outcome, today she tries to be as safe as possible. She sends any information she can gather about a sugar daddy to a trusted friend before she leaves for the date, along with the location of where she is going. "Having been a sugar baby off and on," she says, "I recognize that there were many more risks that I didn't consider on my first date."
The Marble Lair
Despite blowing him off to meet Kaddafi, Veronica decides to meet up with Arthur again. He invites Veronica to his home, a penthouse apartment above a hotel. Arthur tells Veronica to come up through the service elevator, but Veronica has no idea where that is. She knows she can't loiter in the hotel lobby without looking lost and drawing attention to herself, so she anxiously texts him that she cannot find her way. Instead of coming down to get her, he gives her directions that go something like this: go left, on your right there's a door that has a symbol, go through the door, then wrap around and go to the end of the hallway, you'll see the service elevator, and you'll have to push the button twice. Once she gets to a certain floor, Veronica has to text Arthur again to buzz the elevator up to one of the top floors. Finally, the elevator opens to the foyer of his gaudy apartment, where everything is covered in marble. Standing there is Arthur, who asks if she "found the apartment okay."
Arthur is into wellness culture. And, unfortunately for Veronica, he has stereo speakers set up in every room of his apartment. So, after he talks to Veronica extensively about his many different types of expensive white wine, he leads her into the bedroom and puts on inspirational dubstep music, which plays while they have sex. Veronica dissociates from her body, but Arthur is focused on making her come to show that "he's still got it." Instead, Veronica spends the entire time faking orgasms, hoping he'll stop. But he keeps going anyway, calling her bluff.
At the time, Veronica did not shave any of her body hair, which Arthur felt the need to talk about, telling her, "You know, just because you don't shave doesn't mean you don't trim." Veronica politely swats away the comment, telling him that she prefers her body unshaven. "I spend three hours with you out of a month, and the rest of it is my time," she says. In moments like these, Veronica felt more like a car that came in the wrong colour than a person. "They feel like they buy your body for a bit."
The second time Veronica comes to Arthur's apartment, she finds her way around more easily. But this time, she gets snuck in because his young teenage daughter is having a slumber party with some friends a few rooms over. Arthur has cameras set up everywhere, so he shows Veronica the live footage of his daughter and her friends watching a movie in their theatre room.
Only 18 years old at the time, Veronica chooses to pretend this situation is normal. She asks questions like, "Oh yeah, what's your daughter into?" Secretly, she's thinking, "If you told your daughter that you're fucking an 18-year-old while she's home, that would fuck her up." Veronica wonders why Arthur doesn't just wait until his daughter isn't home, and worries what will happen if she runs into his daughter somewhere in the apartment. She never does, but to this day, the question unsettles her.
Marissa, the Mercenary
Like Veronica, Marissa has had her fair share of slimy sugar daddies. A 25-year-old student at the University of Guelph, Marissa began sugar babying in 2021, during the height of the pandemic. For the first few months, she refused to meet up with sugar daddies out of fear that she would contract COVID-19 and give it to her parents, who she lived with at the time. Now, thanks to sugar babying, her rent is completely covered. After her pandemic fears fizzled out, she remained strict about her rules when meeting up with sugar daddies. She never goes on dates without a friend present, she never has sex for money, and she knows when to cut her losses. About six to eight months in, a sugar daddy will usually start wanting more from the arrangement. He will say he wants sex, or a relationship, or that he loves her. When it gets to this point, Marissa knows it is time to open whichever sugar dating app she's using at the moment and start the search again.
"She tells her sugar daddies that Clark is her gay best friend. Not only do the daddies let him tag along, but sometimes they pay for his meals."
The idea to try sugar babying first sprang to mind after Marissa's boyfriend, Clark, joked that she should become one. He wasn't being serious, but Marissa started considering it as an actual way to earn money. Marissa, a freelance model, already had a portfolio of professional photos to use on sugar dating sites. A couple of months later, Marissa and Clark would be going on sugar dates together. She tells her sugar daddies that Clark is her gay best friend. Not only do the daddies let him tag along, but sometimes they pay for his meals. One time, Marissa decided to bring Clark on a shopping date. She dressed him up in effeminate clothing and a tiny pink backpack. The sugar daddy took the bait, and Clark left the mall with shopping bags of clothes for himself as well. Sometimes, she gives Clark her cellphone and he texts the sugar daddies, masquerading as her.
On average, Marissa will meet up with a daddy for an hour or two and get paid $300. Marissa likes to overlap sugar daddies to earn as much money as possible. At a minimum, she earns $2,000 a month—an allowance from her current sugar daddy, Bryan, who she first met in September 2021. Bryan is in his forties and works in television. He consistently tells Marissa that he wants a long-term, committed relationship from her. Marissa, in an act of deception, deletes her account on Secret Benefits to show Bryan that she will not be speaking to any other sugar daddies. She then makes another account on Seeking Arrangement. Since they met, Bryan has given her an iPhone 13, an iPad, two couches, a TV, a DVD player, two Michael Kors backpacks, a Kate Spade backpack, and a pair of diamond earrings. When we spoke, he was also in the process of buying her a new MacBook, which she planned to give to Clark.
Marissa knows that Bryan expects their arrangement to turn into a loving relationship. Right now, he's waiting until his kids move out in the hopes that they can move in together. When this happens, Marissa knows she will have to leave Bryan. She is, after all, already in a relationship with Clark. Not to mention, she finds Bryan pathetic. "He definitely plays the victim," she says, describing him as someone who constantly complains about his life and "never has a good day." She adds, "I don't think he has asked me a single thing about myself ever, it's just constant talking about himself." Though Marissa doesn't enjoy her sugar daddies' company, she recognizes that the money goes toward her rent, tuition fees, and groceries. She emphasizes that sugar babies must be firm with boundaries when dealing with sugar daddies. "These men absolutely will test you," she says. "I would never, ever, ever meet one of these people alone."
Bailey Hears Alarm Bells
As Marissa begins sugar babying, one of her friends, Bailey, accompanies her on a few dates. She quickly realizes how much money a sugar baby can make, even without sexual exchanges. So, in September 2021, Bailey hops on the sugar dating app Secret Benefits. Soon after, she receives a message from a man named Mark, who proposes that they meet up that night. Bailey texts Marissa to see if she can supervise the date, but Marissa already has plans. Bailey has learned from Marissa never to go on dates alone, but she assumes she will be okay this one time, and picks a restaurant close to her apartment. When she sits down at the table, she immediately notices that the photos Mark used for his profile were from several years ago, and that he looks noticeably different in person. Suspicion creeps in, but she chooses to play along.
Bailey knows that her apartment is down the block and that their date is in public, so she feels safe. But halfway through dinner, Mark says that he picked up a bottle of alcohol from the LCBO for them to drink in his car after their date. Although this is out of Bailey's comfort zone, she tells herself it will be fine. "He was doing everything to make me feel comfortable," she says. For example, earlier that night, when it was time for them to meet up, Mark had offered to send an Uber to pick her up. He told Bailey that it was too late for her to be walking alone at night. "I like to see the best in people," she says. "Sometimes that blinds me to their flaws."
Soon after they get into his car, Bailey hears alarm bells ringing in her head. Mark gets in the back seat to pour the bottle of hard liquor into a cup. The bottle, she notices, is already half empty, despite his claim that he had just bought it before the date. He tells her he is going to mix the drink with Red Bull. Bailey, who has never had Red Bull before in her life, cannot gauge whether the colour is accurate. She knows not to take an open drink from a stranger, so she puts the cup to her lips and begins taking small sips. She also knows that her alcohol tolerance is fairly high, but to be safe, she texts her roommates and tells them to call her in 10 minutes and fake an emergency. At this point, Mark is still being nice, but he keeps nudging her to drink more and loosen up. Bailey continues to put the lip of the cup to her mouth, taking small sips.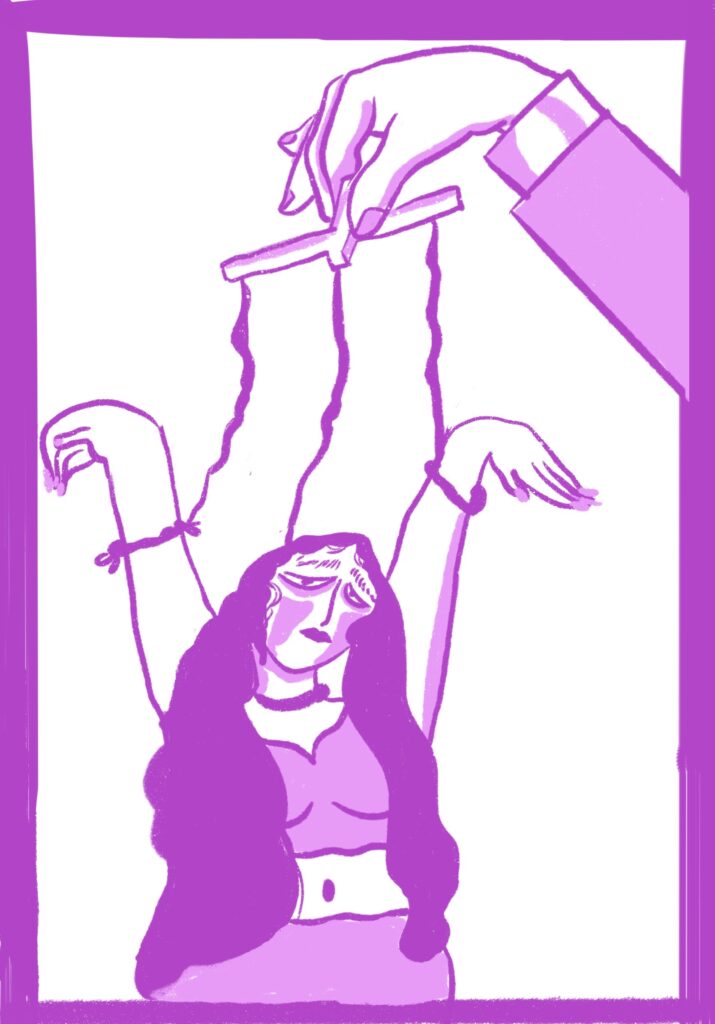 The next thing Bailey remembers is hearing her phone ring. When she wakes up, still in the car, she realizes that her pants have been removed. She checks her phone and finds five missed calls and dozens of text messages from her roommates. She tells Mark that her friends have been calling, that they are worried, and that she should probably leave. As she gets out of the car, Mark aggressively chucks an envelope of cash at her. The next morning, Bailey wakes up to fake money and a trail of bruises around her body. It takes a few days for Bailey to piece together what had happened. Eventually, she goes to the police, and within a few days, they arrest Mark.
Cashing Out
As Veronica continued sugar babying, she faced men who ignored her requests to stop, who disregarded her obvious discomfort, and who coerced her into unsafe situations. Kaddafi's mistreatment of her also escalated over time. Three years later, she now recognizes that her decision to pursue sugar dating coincided with a point in her life when she was grappling with severe depression and didn't know how to make sense of it. "I kind of knew that Kaddafi would give me a sort of grit," she says. "I was already so hurt. But having someone hurt me, kind of made the pre-existing hurt have a reason."
The sugar daddies Veronica, Sarah, Marissa, and Bailey encountered could easily be categorized as desperate, dangerous, absurd, or all of the above. But whether or not the women's experiences were financially beneficial or traumatizing generally depended on luck and their ability to hold and maintain power in the arrangement. If sugar babying has a glossy veneer, it deteriorates easily. For many women, it's just a way to make a living. For others, it puts them in vulnerable situations with men who see them as products rather than people.
After our interview, Veronica takes out her phone to show me a video of Kaddafi. On her tiny screen, I see him for the first time. I am shocked by how normal he looks. She laughs a bit, in a way that recognizes the absurdity of the situation, and plays a voice recording he had sent her several years ago. He is singing "Let It Go" from the soundtrack of Disney's Frozen. We listen to it together, before she rolls her eyes and puts her phone away.