When COVID-19 shuttered university basketball leagues, these young players found ways to keep themselves going.
BY JORDYN DEAVEIRO
ILLUSTRATION BY ERIN SASS
———————————————————–
Eugene Kanku doesn't eat before tip-off. He never has. Other than a quick granola bar, he avoids feeding his stomach because he hates the possibility of the mushed food finding its way back up. On game day he's a different person. That's the day he does what he desires most—play hoops. That's the day he's calm, driven. He puts in his AirPods and listens to melodic, purposeful lyrics to get his meditation right. He likes music that moves him, like Rod Wave or J. Cole. The routine shoot-around, warmup, and pregame talks from his coach bring him closer to the first game whistle. Before he steps out of the locker room, he says a prayer. "One for myself," he says, "and one for everyone else." He only ties his laces once he steps onto the court. This is the 22-year-old athlete's rhythmic norm, yet it's a routine that hasn't been routine. Not since the main contender for worst year of the new decade—2020.
As the COVID-19 pandemic swept the globe, Kanku remembers sitting in his Cape Breton University dorm room in Sydney, Nova Scotia. He didn't know what was going to happen next, and soon realized no one else did either. His first concern was for his own safety, but it would be an opportunity to take the time to heal his injured knee. Kanku has suffered from multiple injuries dating back to when he was a child, so patience is his virtue. In high school, his shoulder consistently used to pop out like a Mr. Potato head toy, thanks to a nasty injury from his past football days. Thankfully, it was rehabilitated with surgery. After the campus shut down, he flew home to Ottawa, to await the next announcements from the Ontario government.
"The clock was ticking, with seconds left in the game. As he moved to cut off the attacker's lane, their knees collided, and Kanku's right knee locked."
The last of Ontario University Association (OUA) sports had just finished their 2020 seasons, so athletes were left to finish school as athletic facilities such as courts, gyms, fitness centres and community centres closed. The COVID-19 pandemic was in full effect in Ontario. The province saw nearly 200,000 positive cases from March through December 2020. All over the world, spring 2020 left people stranded, isolated inside their homes. Leisure became a common ritual for the majority. Kanku watched the COVID-19 cases rise from his bed during the first few months as he was in a six-month healing process, forbidden to put weight on his leg. Fast forward to the fall semester. At first, play was delayed, which was bad enough. Then, U Sports announced the cancellation of the entire 2020–21 season.
In the COVID-19 era, university athletes have faced an entirely new type of adversity. Imagine working your whole life towards something. Imagine putting your ambition, dedication, and commitment into your dream sport. Imagine the goal of building a potential career, and then—poof!—it's gone. That's what the pandemic did to young athletes.
Then something unexpected happened. Across the country, young athletes became determined. They found new ways to practice and keep in shape, even during COVID-19 peaks. They had to be vicious and innovative if they wanted to make it. They also had to cling on to what little hope they had left. The pandemic exposed which players really wanted it—those who understood the circumstances they were in, and yet found ways to stay resilient. They could have succumbed to endless periods of waiting around. Instead, they conquered mental and physical barriers, reaffirming that the dreams they are striving toward have a purpose.
The Injury 
Kanku is currently a member of the University of Ottawa Men's Basketball program. When COVID-19 changed everything, he was in second year at Cape Breton University. As a point guard, he is responsible for directing the play and controlling the pace of the offensive game. He describes his game as "art, craft, and unique." His first year as a Cape Breton Caper was the 2018–19 season. He averaged twenty-two minutes per game with 11.6 points in his rookie season as a Caper—solid stats for a rookie. He was looking to be the next shining star on the East coast; instead he found himself out with a meniscus injury.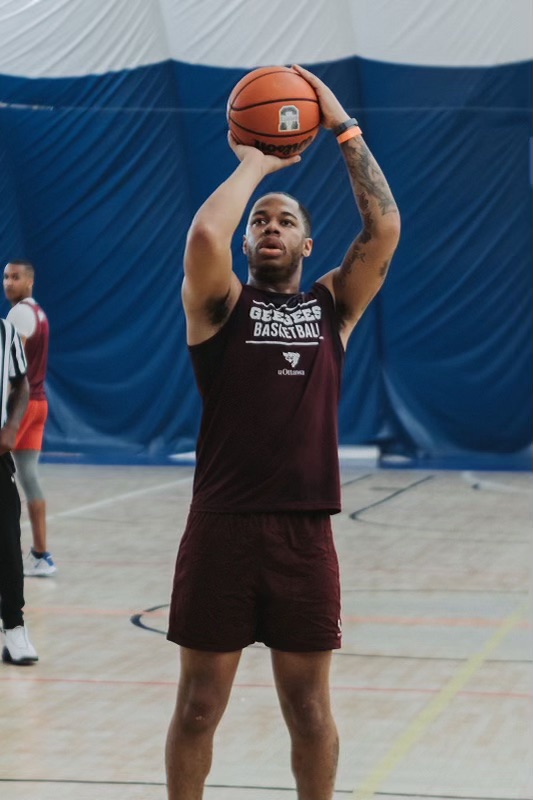 His memory of the injury is still vivid. It was an exhibition game before the official start of his second season—not a big crowd. The Capers were on defence as the Holland College Men's offence brought the ball up the court. The Holland guard dribbled hard up the court, approaching the three-point line; Kanku sat into his defensive stance. Knees bent. Arms up. He was vocal, claiming the opposition in front of him. His mark drove to the basket and Kanku shuffled his feet quickly to keep stride. His objective was to block his path to the net. The clock was ticking, with seconds left in the game. As he moved to cut off the attacker's lane, their knees collided, and Kanku's right knee locked. The pain was striking as he fell backwards to the floor. "To put the cherry on top," Kanku saw his six-foot-seven teammate, Lenda Diarra (now a TMU Bold) falling as well, with a direct drop onto his stiffened leg. As he landed, the pressure doubled. Kanku felt his heartbeat in his knee, as the cartilage he came to know as his meniscus was torn.
Eugene Kanku of the UOttawa Gee-Gees. Photo courtesy of Jean-Jacques Ngandu.
Mentally, this meniscus injury was worse than his others. He found himself in a deep depression—something he still struggles with to this day. In Canada, research studying the mental health of student athletes is increasing. Much of it dissects the compounding pressures of academia and sports. According to a study out of the University of Alberta, researchers can analyze student athletes' mental health in three phases: pre-season, in-season, and postseason. COVID-19 put a lot of pressure on student athletes to maintain their health during an indefinite pre-season, and too much time to ruminate as they waited in limbo during the postseason. So here was Kanku, leading into the 2019–20 year, and watching his second chance end. Missing a season, then facing COVID-19, he saw God handing him another challenge to conquer.
Hustle and Grind
The events of 2020 affected other hard-working basketball players as well. Victoria Lawrence was a star point guard in the 2021–22 season playing with the women's basketball team, the Brock University Badgers. Like Kanku, she was on a different roster and in a different league when the pandemic started, in the Ontario Colleges Athletic Association (OCAA). Fall 2020 would have been her second year in the OCAA at George Brown College. Her season was snatched away from her. She graduated her two-year program through Zoom classes, with team workouts on unstable wifi calls, practising ball handling. As an avid basketball fan and player, during the 2020 and 2021 summers, she would just play. As COVID-19 infection rates slowed down and the heat increased, it was easier to keep up with her training outside. She took advantage of the fresh air to train. She mostly played pickup on Toronto's cement outdoor courts, being careful to dodge COVID-19 fines.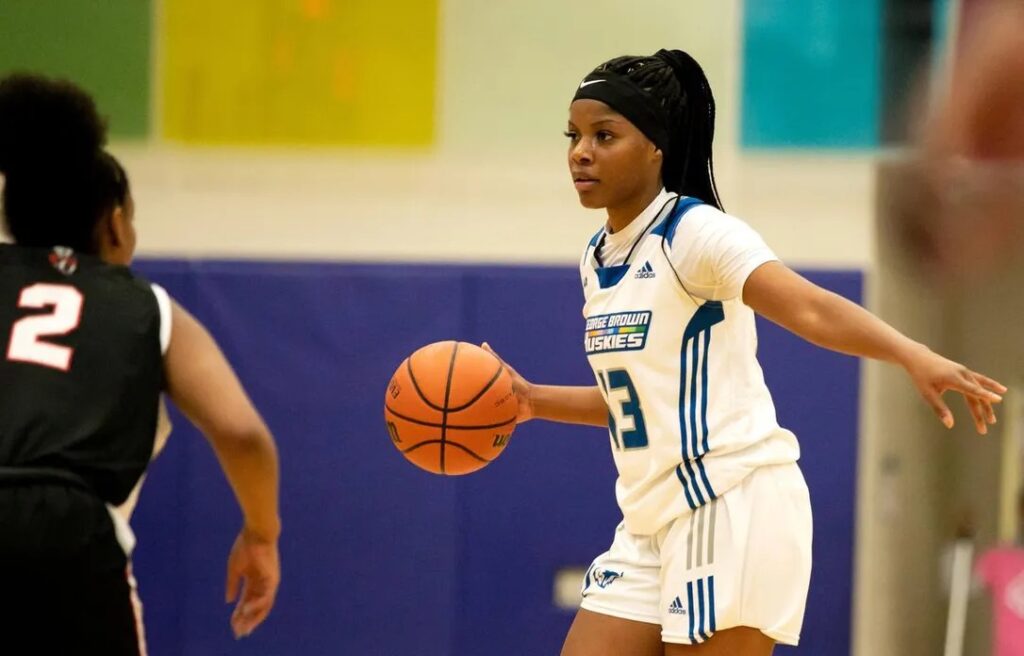 Victoria Lawrence in action last year for the George Brown Huskies. Photo courtesy of George Brown College.
During the second year of the pandemic, Lawrence had opportunities to train in Toronto on a small indoor court, thanks to a connection in the basketball community. While there, she received the intense training needed to strengthen her work ethic. It had soft mat floors where she broke sweat with anticipation and hustle, like she had done on the waxed wooden floors of her home court before it was locked down.
She did mostly shooting drills, simulating real games. Finally, in October, her season started, and her team emerged from the early 2022 lockdown with a winning streak. By the end of the 2021–22 season, Lawrence had averaged 9.4 points per game. She was a key player for the Brock Badgers. Her vision and determination to succeed was at an all-time high, despite the provincial restrictions working against her.
Time Will Tell
Tyler Sagl, a sniper shooting guard who played for the Toronto Metropolitan University men's basketball team last season, had to adjust to COVID-19 complications as well. Tyler is known for his efficient shooting skills and being a vocal frontrunner on the court. "He was an optimistic addition to the team," says coach David DeAveiro. Sagl is Canadian, an Ontario native, but a division-one transfer from the National Collegiate Athletic Association. In the NCAA, he attended Marist College in New York State, and was named to the Metro Atlantic Athletic Conference rookie team, which honours the six best rookies of the conference for that season. Despite these opportunities in the U.S., he moved back to Ontario to continue playing.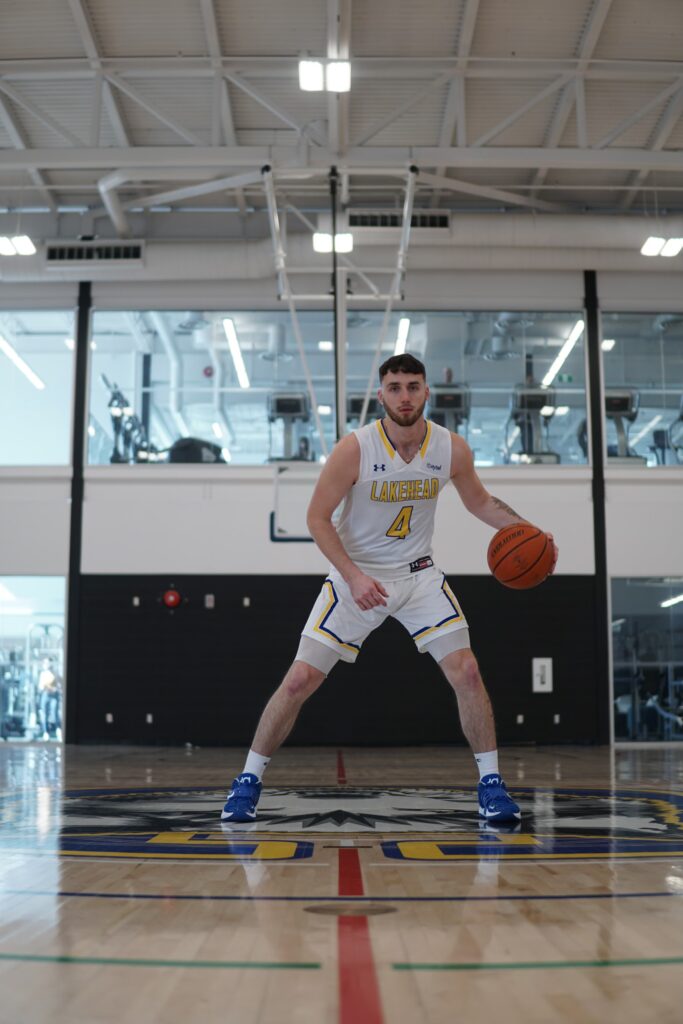 "Over months of tests and caution from his medical team, Sagl had to simply wait—unsure if or when he would be cleared to play. As it turned out, Sagl's condition wasn't myocarditis—it was long-COVID."
Tyler Sagl of the Lakehead Thunderwolves. Photo courtesy of Chume Nwigwe.
COVID-19 was the main hurdle that kept him back home. Compared to the U.S., Ontario was locked up, but Sagl had one advantage that helped him stay in shape: his basement. He is fortunate enough to have his own minuscule gym with a beat-up boxing bag, some hand free weights and a treadmill. In the second year of the pandemic, Sagl had the opportunity to practice in real gyms. He started the 2021–22 season, averaging 30 minutes per game. He was content with his decision to play at home, and in Toronto—Canada's basketball hotspot. During Christmas break, he caught the virus. Thinking he would be healthy again in two weeks' time, he found out there were complications. At first, his doctors worried it was heart inflammation. "I didn't get cleared and I could say, currently, mentally, I'm not the greatest," he said at the time. "I know it's not the end of the world—my time will come." The phenomenon of heart inflammation due to a viral infection is called myocarditis. According to the U.S. Centres for Disease Control and Prevention, the risk of myocarditis from COVID-19 infection was 128 per 100,000 between January 1, 2021, and January 31, 2022.
Over months of tests and caution from his medical team, Sagl had to simply wait—unsure if or when he would be cleared to play. As it turned out, Sagl's condition wasn't myocarditis—it was long-COVID. Finding out took more than eight months, including six to seven months where he wasn't permitted by his doctors to train. Finally, he got the go ahead to start working out again. For Sagl, this period was a time of stress and sadness. But he did what he could to keep up, in every way he could, to prepare for his return to the court.
Caldwell Child
For Kanku, finding alternate ways to train for basketball and fitness was not as easy. Yet, the cancellation of the 2020–21 season allowed him to heal and regain a year of eligibility. His meniscus rehabilitation consisted of six to eight months of walking with crutches, progressing to small weight workouts, and then on to short runs and hitting workouts to regain cardio. He was able to use the gym in a friend's apartment complex as well, where he was finally able to pump iron and break sweat. Unfortunately, the cycle of lockdowns in the province forced that avenue to close and, once again, he had no access to a gym. There were times when he lacked the motivation to leave his small room. He began to realize he had some decisions to make, as COVID-19 was beginning to change his aspirations to play basketball.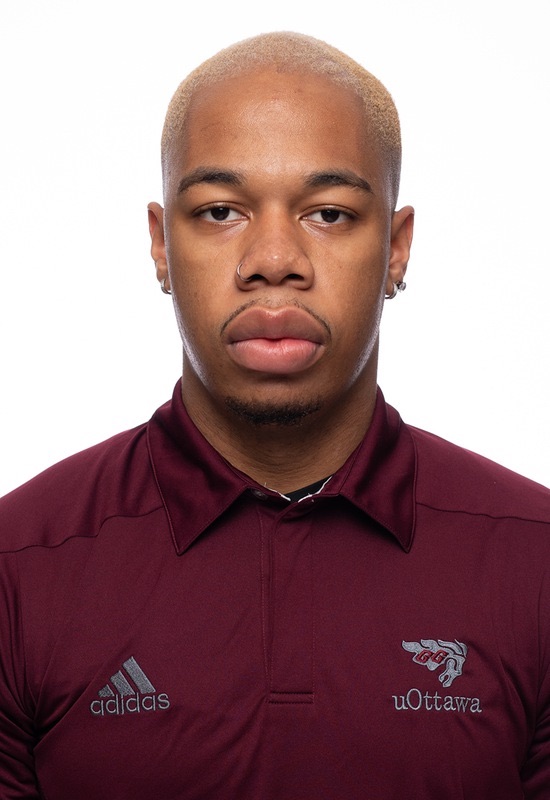 Kanku grew up in Caldwell, one of the lowest income government housing neighbourhoods in Ottawa's West end. Ottawa police data from 2019 shows that in the Carlington neighbourhood (which includes Caldwell), there were twice as many "crimes against people," including assaults and threats of violence, compared to the city overall. Most co-op housing in Ottawa looks the same. Linear lines of run-down, stained townhouses. There is often a looming apartment complex right in the middle, a small corner store, a community centre, an outdoor court with cracked pavement and crooked hoops. Kanku's parents Jean-Pierre and Marie Kanku tried to keep him and his four siblings indoors as much as they could. He shared a story of his neighbourhood school bus driver's house burning to the ground. The man lived behind him. A child was lost. Kanku has lost many friends himself, and seen many others harmed. Life in Caldwell is far from easy.
Eugene Kanku. Photo courtesy of University of Ottawa Athletics.
Due to his demanding homelife and intense responsibilities growing up, Kanku put school on the back burner. The result has had academic consequences for him. At the University of Ottawa, in winter 2022, he was on academic probation, meaning he wasn't allowed to suit up for games, and is still waiting to see if his marks will allow him to play this school year—another season in jeopardy. Throughout the pandemic he balanced an aggressive retail job at the prestigious Nike Rideau Centre to keep up with tuition and fees, and his basketball schedule to keep up with his contest. Other hurdles such as his home flooding and deaths in the neighbourhood deflated his confidence, which further affected his ability to focus on school.
Kanku is open about how this strain has affected his mental health. He began to understand more about his depression in high school. He sometimes took voice notes and re-listened after time had passed, when his head cleared of clouded thoughts. Basketball brought him joy and peace. Speaking up about his mental health has sped his progress, as well as having the 29-inch, 22-ounce orange ball in his hands as much as possible.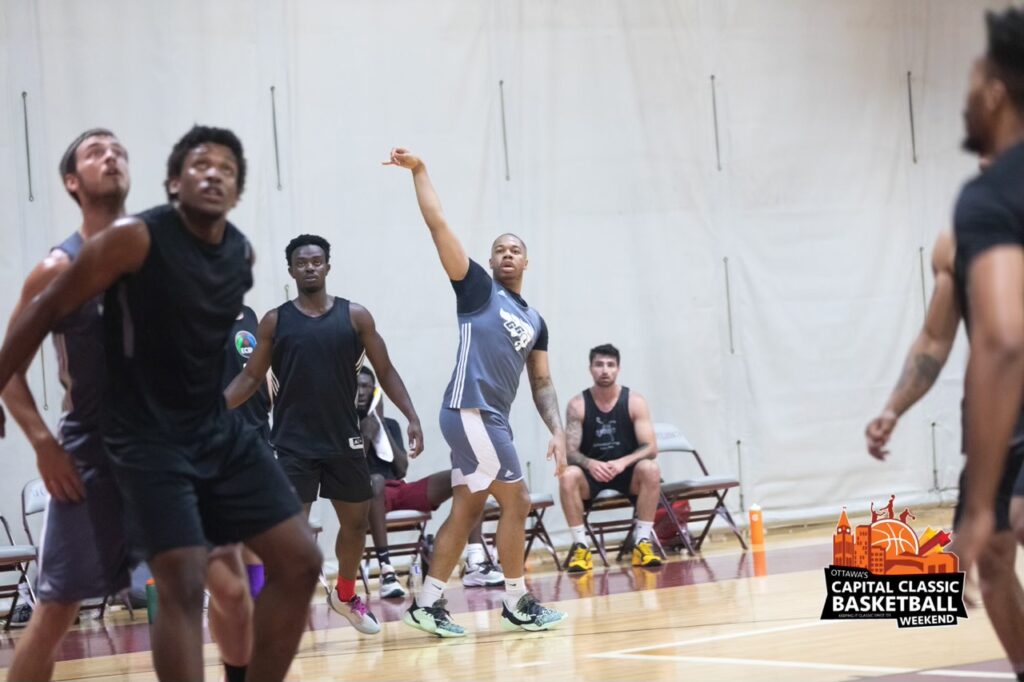 Teammates watch Eugene Kanku's shot. Photo courtesy of Jean-Jacques Ngandu.
However, if you see Kanku on the court, you may not realize he struggles with mental health. He's beside teammates, being loud and forever encouraging. He claps his hands together when a teammate gets an "And-one" call or a hefty three-pointer. He shouts "NO!" and "HOW?" to referees' calls he doesn't agree with. Off court, he is the same. With age and character, he has learned safer, more positive habits that permit him to focus on his dream to pursue a career in basketball. The mental resilience he acquired throughout his life, both on and off the court, has curated the characteristics necessary for him to be a strong athlete, and a strong person.
Canada vs USA
In June 2021, news outlets were preaching about a "two-dose" summer as Ontario reported 65 per cent of adults had their first dose, earlier than the province had anticipated. Due to this, sports facilities were reopened, which allowed fall sports to restart, and winter sports kicked off their preseasons. Again, the UOttawa Gee-Gees were first in their division when the Ford government put the province back into another lockdown in early January 2022. More stopping and waiting. After gaining "elite status," a few athletic divisions were exempt and allowed to continue athletics. The OUA didn't make the list. The Ontario government had ruled that university athletics do not qualify as "elite." Ontario had now experienced three full lockdowns in fewer than three years. Ontarian and Canadian athletes were frustrated, especially in comparison to how the country to the south was handling the pandemic.
At the beginning of the pandemic, the U.S. and Canada experienced the pandemic similarly. In the U.S., some states were hit hard with the virus; others were luckier. The NCAA cancelled its 2020 March Madness tournament but completed the 2020–21 season. The Baylor Bears won the championship in a preserved bubble. Lockdowns not only affected university students but incoming freshmen. By the time the second year of COVID-19 emerged, says Kyle Duke, a 20-year-old Canadian playing at North Carolina Agricultural and Technical State University, the pandemic didn't seem like a big deal at all. Duke was at The Rock School in Florida when the pandemic started, and quickly decided to remain stateside. He trained all of summer 2020 without restrictions. No locked gyms, and no fines obstructed his training.
Tony McIntyre, director of basketball operations and head coach of the Athlete Institute at Orangeville Prep in Orangeville, Ontario, watched his high school program lead the Ontario Scholastic Basketball Association (OSBA) division during the regular season for three consecutive years before COVID-19 hit. He says that getting his players' names out to Division 1 schools in the U.S. was nearly impossible because of how Ontario handled the pandemic. With only team scrimmage film tape, and few clips from previous years, Ontario high school hoopers fell behind a year. McIntyre was frustrated by his inability to help his young players. "We don't have a true sports culture to support amateur sports. U.S. sports culture is more publicized and promoted. It's an event, you know, Friday night in a small town in Texas is packed."
While Ontario was at a standstill, in the U.S. there were only game cancellations when players saw the two terrifying lines on the COVID-19 rapid tests. Most of the Ontario athletes I have spoken to envy the U.S. culture surrounding not just basketball, but sports in general. Kanku says, "If the U.S. could figure it out after a year, why couldn't we?" Lawrence wishes the OUA "had the opportunity and support that U.S. college sports have." And Sagl says, "We did everything that was asked and unfortunately they shut us down."
Nevertheless, this fuelled a last push of grit and grind. It differentiated athlete A from athlete B. The players who have always been hungry for more proved to be elite players, or simply mentally tough individuals.
Keep Digging
Facing adversity revealed to Kanku his love of basketball like a spotlight in a dark room. While his advantages were limited, his relationship with basketball grew stronger as his determination engulfed him. His spirit guided him to stay driven. He is strong in the gym. He is active in practice. On the Gee-Gees grey and burgundy bench, wearing his black durag, and Black Lives Matter team warm-up shirt, he is the loudest. A look in his eye divulges hunger and camaraderie. The one thing he learned from all the sitting and waiting was that he was unfulfilled without basketball. The game flowed through him. It is a career he dreams to achieve for himself, and for his family.
Ball is life, as one would say. Basketball is dedication, pain, patience, joy, heartbreak, and adventure. For hoopers, COVID-19 may have taken their game away, but they gradually regained their place on the court. On a deeper level, they also had to fight through unexpected hardship to get there.
"Kanku has learned that COVID-19's impact on his basketball journey may have saved him."
Sports necessitate a specific set of mental characteristics. Multiple international and Canadian studies have shown traits such as motivation, survival capacities, confidence maintenance, heightened cognitive skill, and discipline in athletes. Kanku, Lawrence, and Sagl are three examples out of over 9,500 OUA athletes who harnessed an emotional roller-coaster of sensations—confusion, exhaustion, and burnout—to stay prepared and to find channels to play better.
Kanku has learned that COVID-19's impact on his basketball journey may have saved him. "Basketball is like someone I can always count on 24 hours a day," he says. "It's an outlet to get away from my current life and do my own thing." With long odds thrown at him his whole life, Kanku now understands that the solution is not to quit, but rather to thrust himself into his academics, confront his mental health issues head-on, and commit to the grind of improving his hoops. "A lot of us give up, but the ones who were always looking to play for our coach and be ready for a season saw it as 'Whenever we get the call let's be ready'."
The Call
That call finally came. The 2022–23 season for OUA basketball athletes began on November 1. Sagl and Lawrence both left the schools they were with last season. Though Lawrence is not playing with a university team this year, she's proud of herself—she didn't think she could push herself as far as she did. The pandemic tested her limits, but she knows that the effort she puts into the game, both on and off the court, will "always come to light."
Sagl decided to transfer to Lakehead University in Thunder Bay. With COVID-19 restrictions out of the way, and after being cleared by his doctors to workout and play basketball again, Sagl finally learned how to let go of anxiety and stay in the right headspace—a space of encouragement and focus. His biggest lesson was learning how to "control the controllable, and to let the uncontrollable out of your mind." Up north with the Thunderwolves, he has the chance to play with his younger brother. After nearly a year of not being cleared by doctors, his season cannot come fast enough. He refuses to let fear or doubt hijack his mind once more.
Kanku is ready to play, and ready to win. The pandemic helped him realize that before COVID-19, he never took care of himself. His time in solitude during COVID-19 lockdowns revealed to him that he deserves the time to do what he loves. He hasn't felt team success in a while, and he knows he'll have to keep working hard to get there this season. Playing for a university in his hometown, surrounded by teammates, peers, and family, Kanku wants to show everyone what he's been working towards. He wants to feel the glory of raising the championship trophy in March. He is proud of what he continues to do to elevate himself mentally, physically, and emotionally. Rooted in hard work and loyalty to the game, he says he is "still here trying to do good in this life." He adds, "I would say I'm proud of myself for sticking through and just trying." Kanku knows his time is coming.